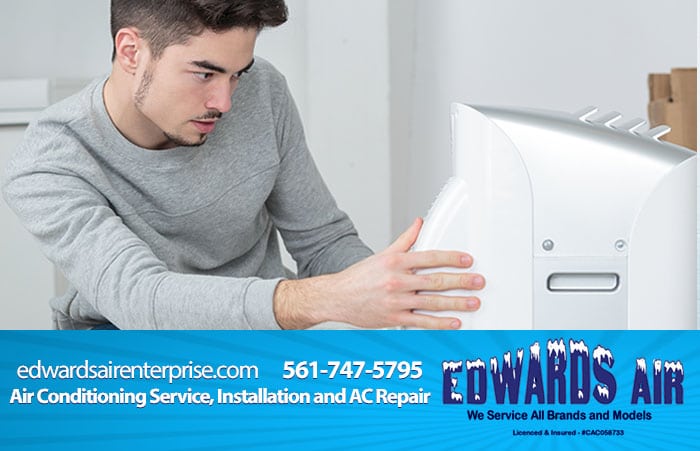 Florida is a hot and humid state. According to experts, a home or business should have 45 percent to 50 percent relative humidity. If the level climbs higher, a whole house dehumidifier would prove beneficial.
Unique Aspects of a Whole House Dehumidifier
Managing humidity in your home or office is important. When levels are too high, you will sweat profusely, feel fatigued, and deal with a number of other problems, including the growth of mold. To determine just how humid your indoor environment is, you can purchase an inexpensive monitor to track relative humidity. If the levels are above the 50 percent mark, you need to take action.
For minor issues with humidity, people often purchase small dehumidifiers. However, because Florida is so humid, you will do much better by having one of our skilled technicians install a whole house dehumidifier. An Edwards Air technician can do an assessment, then recommend the right whole house dehumidifier based on your needs.
Similar to your air conditioner and heating system, it is important for the size of the dehumidifier to match the size of your home or office. The size of these units is based on the amount of water that they can remove from the air within just one day. Although there are many different options, on average, a whole house dehumidifier will pull anywhere from 90 to 150 pints of water from the air. Because the water is then drained through the plumbing system, this type of unit must be installed by an experienced professional…
Edwards Air Enterprise is a LOCAL AC company that has the Air Conditioning Service, Repair, Installation & Replacement tools and experience to evaluate and resolve your situation accurately and provide cost-effective solutions in air conditioning service. We can help you maintain your cooling and heating systems, prevent possible problems and promote maximum efficiency with Edwards Air's comprehensive maintenance plans. Though swift and accurate HVAC repairs, we address complicated problems and safety concerns to restore your equipment to optimal condition.
Contact us today at Edwards Air Enterprise or 561-747-5795
Edwards Air Conditioning providing services throughout South Florida specializing in these areas; Jupiter, Palm Beach Gardens, Tequesta, Juno Beach, North Palm Beach, Stuart, West Palm Beach, Lake Park, Port St. Lucie, Jensen Beach, Royal Palm Beach, and Palm City.
https://edwardsairenterprise.com/wp-content/uploads/2018/10/EdwardsAir_P-20.jpg
451
700
access
/wp-content/uploads/2019/07/edward-logos.jpg
access
2018-10-24 14:30:32
2019-08-16 09:29:29
What Is a Whole House Dehumidifier, and How Does It Work?