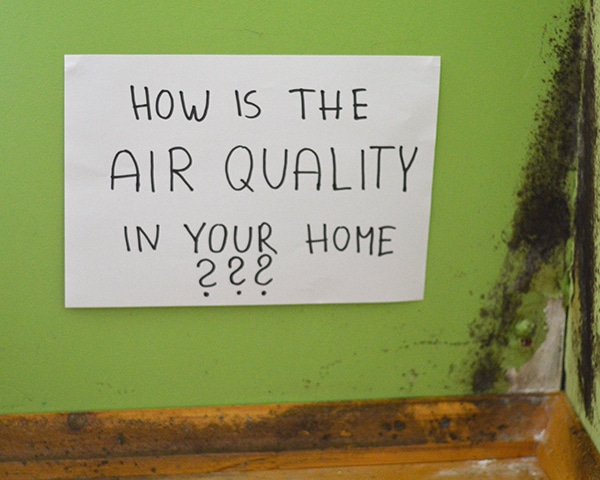 How Clean is Your Indoor Air?
Your indoor air quality may not be as wonderful as you think. In fact, it may be dirtier than the outside air and affecting your health. Having clean indoor air should be a top priority since the Environmental Protection Agency estimates that people spend almost 90% of their time indoors.
Types of Pollutants
Carbon monoxide poisoning.
Respiratory tract infections stemming from secondhand smoke.
Radon gas. It is silent and odorless. It causes lung cancer and is present in many American homes.
Gases released from paints.
Mold which grows from high levels of moisture or water leaks.
Dust-mites.
Pet allergens.
Asbestos.
Dry-Cleaning Chemicals.
Formaldehyde.
Pesticides.
Toxic chemicals in cleaning products.
How to Keep Your Indoor Air Clean
Increase ventilation in your house by using trickle ventilation, which is a 10-inch high screen with extra filters. It adjusts to most windows and allows fresh air in and helps indoor pollutants out.
Turn on the A/C. Air conditioners remove water from the atmosphere, they remove these pollutants and they also remove pollen and particulate matter."
Install a HEPA (high-efficiency particulate air) filter. Do NOT smoke in your home.
Install a Carbon monoxide monitor.
Test for Radon.
Use Low-VOC, lead-free paints.
Fix leaks to prevent moisture which can cause mold.
Clean your A/C and dehumidifier.
Clean up after your pets.
Kill Dust Mites.
Check for Asbestos.
Beware of dry cleaning chemicals.
Remove any formaldehyde and pesticides.
Remove toxic products from your home.
Why Choose Us
Background Checked Technicians
Convenient Appointment Times
Upfront Pricing
Exceptional Service Guarantee
Edwards Air Enterprise is a family-owned and operated business that has been providing A/C replacements, repairs, maintenance and duct cleaning for over 27 years. Our company is well-known in the communities we serve for providing professional service at a reasonable price on all brands and models of air conditioners. We know treating our customers exceptionally well is the key to a successful business and the reason for our repeat business and referrals.
Call us at (561) 747-5795 or visit us at http://edwardsairenterprise.com
Edwards Air Ent LLC
312 S Old Dixie Hwy Suite 108
Jupiter, FL 33458
Phone: (561)-747-5795
https://edwardsairenterprise.com/wp-content/uploads/2017/07/how-air-quality.jpg
480
600
access
/wp-content/uploads/2019/07/edward-logos.jpg
access
2017-07-11 16:37:29
2019-08-16 13:46:11
Indoor Air Quality and How to Keep Your Air Clean